Katie Visco is no stranger to a challenge. In 2009 she became the 2nd woman and 13th overall to run solo across the United States covering 3,132 miles from Boston to San Diego. Ten years later in 2019, she ran 2,112 miles across Australia supported by husband Henley Phillips who pedaled 350 pounds of food, water, and gear on his bicycle. We caught up with Katie to hear about her amazing achievement and the secret to her purpose and passion for outdoor adventure.
Tell us about your run across Australia.
I ran 2,112 miles over 119 days from the northern coast in Darwin to the southern coast in Adelaide, through Alice Springs. Most of the terrain was on dirt back roads and most days averaged 28-30 miles per day with periodic zero-mile rest days. We camped in our Big Agnes two-person tent with a few rare indoor stays at a roadhouse, which is a restaurant + accommodation not uncommon in the Outback. We carried 100% of our supplies including water, food, and gear, and often went 10-17 days between resupply.
Breakfast was oatmeal with nuts and raisins, lunch was bean-fish packets with crackers, dinner was tuna and pasta. Snacks were every hour and consisted of energy bars, protein powder, crackers with peanut butter and prunes, and my favorite, Weetbix!
What were your highlights?
Every afternoon Henley and I took a 3-4 hours break to hide out from the sun and heat. Henley read to me out loud while I lay on the earth, staring up at the sky. I felt so free in those moments. Running across the Tanami Desert during the first month was my favorite because of the cool mornings and beautiful sunrises. This was the section where we began to see red earth and there were still a few bushes and eucalyptus trees which provided a welcome distraction and just a little much-needed shade.
How did you handle the low points?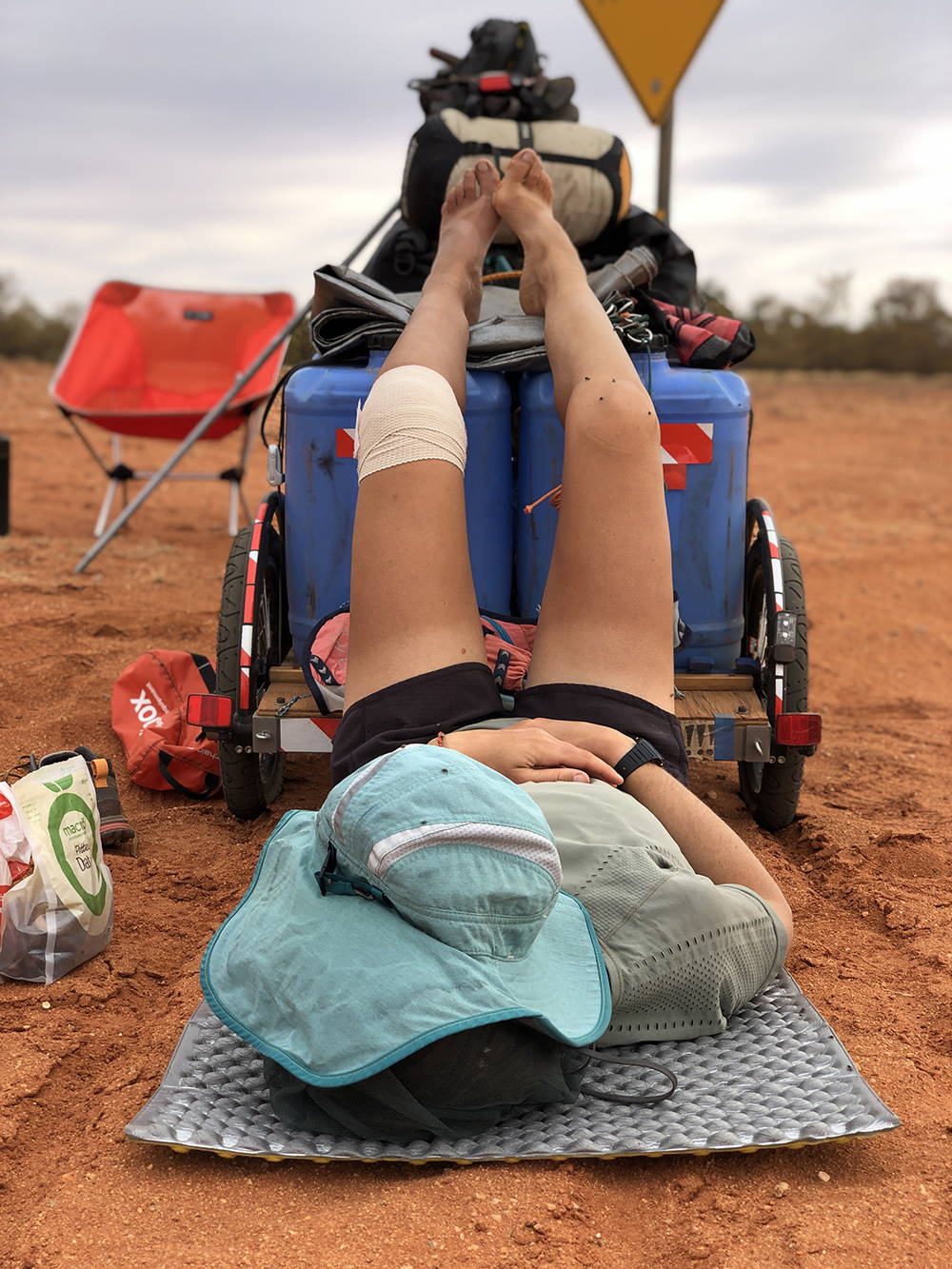 I relied on Henley to verbally or emotionally process. When I was having a low point, which I did often, Henley was by my side to listen to me and comfort me as I shed tears or expressed my thoughts. When Henley had tough times, he remained quiet and processed his own thoughts/emotions internally. I was there for him in a way that supported him best. We were lucky to not have low moments at the same time. However, I do believe that whenever one of us could tell the other was in a low spot, we intentionally remained strong in order to support the other going through their rough patch.
When you are not running across continents, what is your everyday life like?
I am married to a beautiful and inspiring husband, Henley Phillips, and we do not have or plan to have children. My whole life I've run my own businesses, Hot Love Soup, Good Juju Energy Balls, speaking, and coaching. It's only now that I am working as an employee (while still running my own companies). At the moment at my 9-to-5, I consult small businesses on how to set up retirement plans for their employees. I am active almost every day of my life whether it be walking, running, bike commuting, etc. We currently live in Tucson, Arizona, and enjoy the trails up in the Catalina Mountains and Tucson Mountain Park. One of the things I love most about everyday life is being able to build relationships with people, journey with my husband, cook nutritious and creative meals, and build community as best I can. I simply love people. My daily life is driven by this love of connection and also my love for movement.
How do you bring the feelings and experiences of your big runs into everyday life?
At the heart of adventure is the desire to feel alive. When I go on my big runs or when I take on any adventure with or without my husband, I know that I am living my values of freedom, creativity, and authenticity. Living out your dreams is an example of being true to who you are. To me, this is the ultimate form of bravery. The feeling of being alive as a brave woman permeates my life back home; I feel like I have purpose and passion simply by living true to who I am.
What does running mean to you/do for you?
I started running when I was 15 years old and I definitely did not like it. But I stuck with it year after year because of the relationships I built with my teammates and other runners in the community. Running was the connecting thread. To me, running means community, it means human expression, it means simplicity, it shows me that I care about my health, it gives me the feeling that I can put my mind to anything and get it done.
When do you feel the most connected to the things, places, or people you love most?
I feel the most connected when I am engaged in a really good conversation and when I am outside moving my body on a trail or across the earth somehow. There's something about human connection and movement in the out-of-doors that makes me feel completely in love with life and the human experience.
How did you and your partner meet?
I love our story. It was 2013, and Henley had just moved to Austin, Texas. I had been living there for a few years by that time. We had a mutual runner friend who one day said to each of us, "You've got to meet Katie/Henley, she/he is crazy!" What we believe he meant is that he could tell we each shared a kind and adventuresome spirit and knew we needed to meet. A few weeks later, Henley and I met for a run. We were just friends for a year until we started writing snail mail letters back-and-forth when we were each doing our own travels, Henley on the Pacific Coast Trail and me retreating and hiking in Montana. During our penpalship is when we fell for each other. I love this so much!
What qualities and values do you share?
Above all else, Henley and I share the value of freedom. We believe in being the writers of our own lives, and this is why we have taken action on so many of our adventure ideas. There's nothing that we are giving up in order to take on the adventures we dream about but rather so much to gain when we are brave enough to say yes to the things that call us. We also value kindness; a simple gesture can go a long way. Simplicity also drives us. "Keeping it simple" sounds black and white but it's not that easy to keep things simple in everyday life. There are so many decisions to make and things to think about, and we strive to get better at our decisiveness.
How do you stay connected when you aren't on big adventures?
It's not adventure that connects us as a couple but rather the underpinnings of why we live our lives the way we do. Adventure is about living your dreams, trust, communication, challenge, and play. It's easy to live an adventurous life every single day keeping these tenants in mind. Henley and I talk through pretty much everything, sometimes to a fault (i.e. analysis paralysis), but at least we communicate. We trust and respect each other deeply. We are not willing to give up on our dreams. We love a good challenge, and we have no problem supporting the other in taking on their own individual challenge either. We definitely don't need to be traveling or doing epic s*#t in order to feel connected and in love. We simply just do life together by the values we both share.