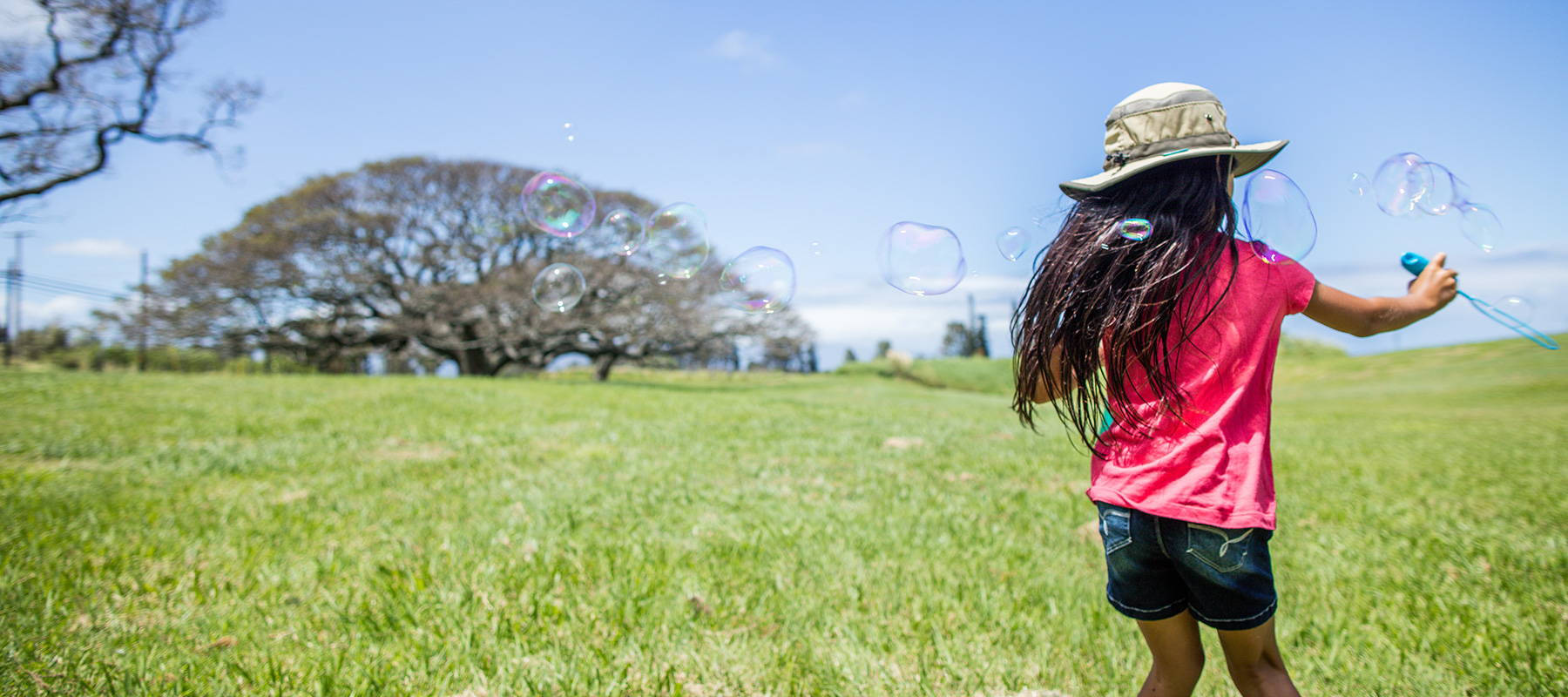 Don't Forget to Play Outside!
Tips & Tricks to Make This Summer the Best Yet for You & the Kids.
Summer was made for outdoor play, and kids know how to do it best. That's why we've gathered some easy tips and tricks to make this summer the best yet for the whole family.
1. Take a Hike
When you're hiking with kids, it's a good idea to focus on the journey and not the destination. Allow more time than you think you need, and stay flexible when things don't go according to plan. Pack healthy snacks to keep everyone's energy up, and talk about what you see while you walk. Hike the same trail over the course of the season and notice the changes. What's in bloom? Is there water in the creek? Stop and listen. Do you hear the sounds of birds or frogs? Slow down and try to see things from your child's perspective.
2. Ride Bikes
Whether it's an easy cruise around the neighborhood after dinner or a short trek from point A to point B, using two wheels is a great way to get fresh air and sunshine. Little ones can enjoy the view from a baby seat, trailer, or tag-along attached to your bike, until they are ready to power their own pedals. Kids learn by watching and doing, so be sure to model safe habits, such as wearing a helmet and following the rules of the road. Teach young bike riders to pay attention to their surroundings. This will serve them well as they grow into independent pedestrians and drivers!
3. Camp Out
Sleeping outside is a great way to enjoy the outdoors in summer, and kids love it. New to camping? Start out in the backyard to keep it fun and easy. As you and the kids get more comfortable, make a reservation at a state or county park close to home and take a few practice runs before hitting the road. Each time you camp out, you can dial in the experience with more of the right gear to maximize the fun and minimize the hassle.
4. Pick a New Park
Choose a day of the week to try a new park in your area. Pick a time and a park, and invite a few friends for a fun, weekly meet-up. Not sure where to go? Contact your local parks and recreation department or county parks office to learn about options in your area. Bring sidewalk chalk, bubbles, skateboards, scooters, and some fun snacks to share with friends old and new.
5. Get Busy with a Project
There are so many fun ways to help kids tune in to the natural world, even in your own backyard. If you're looking for inspiration, our Discovery Projects featured on the Sunday Paper blog are a great place to begin! For example, taking care of pollinators teaches kids the vital role bees play in a healthy ecosystem. Ensure the bees in your neighborhood stay hydrated by making a bee water station. Take the learning even further by starting a garden using fruit and veggie scraps from your compost bin.
And … Don't Forget Your Hat™!
Getting outside is even more fun when you pack colorful, UPF 50+ sun hats from Sunday Afternoons to keep the whole family protected. Kids grow up quickly, and our Trade Up Program makes it easy to ensure they're always covered. To sign up, just click the link, follow the instructions, and upcycle or donate your kids' outgrown hats to save 50 percent on your next Kids' hat.